by Richard Bogy, past president of the Toluca Lake Chamber of Commerce
On January 7th Toluca Lake lost a great friend, supporter, leader and cheerleader with the passing of Councilmember Tom LaBonge. Tom was a man of limitless energy and passion, who possessed a huge heart. He loved people. He loved Los Angeles. He loved Toluca Lake.
Tom's contributions to our community are simply too long to list here, but suffice to say that Toluca Lake continues to be a very special place thanks to Tom LaBonge.
Tom was born in the Silverlake community of Los Angeles in 1953. A generational Angelino who attended John Marshall High School, where he shined as a football player and later as a coach (while coaching at Marshall he mentored a young Andy Reid, now coach of the Kansas City Chiefs). A devout Catholic, Tom's father was the publisher of the Catholic news "The Tidings." Tom always had a loaf of pumpkin bread ready to say "thank you" to people who gave of their time for the 4th Council District. It was not just his way of showing his appreciation for people who gave to the community, but also his way to support the Monastery of the Angels, who baked the bread for him.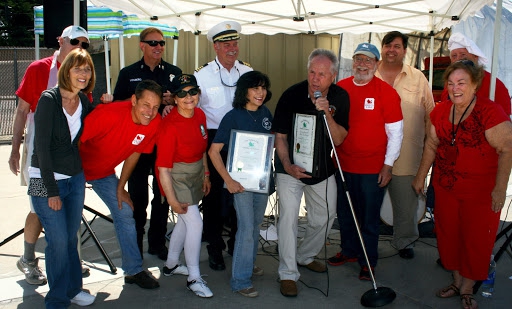 Tom loved Los Angeles and as a young man decided he wanted to commit his life to the City. In 1976 he went to work for Councilmember Peggy Stevenson, then joined Council President John Ferraro's office in 1978. Tom also worked for the Los Angeles Department of Water and Power and was Chief of Field Operations for Mayor Richard Riordan. In 2001, after the passing of John Ferraro, Tom was elected to fill his mentor's seat. He served as Councilman for the fourth district until he termed-out of office in 2015.
Tom was passionate about Griffith Park, the largest urban park in America. Under his leadership the Park acquired additional land, including expansions of the Cahuenga and Burbank Peaks, and he stopped planned development of surrounding open space. He worked to ensure the success of the Los Angeles Zoo and the Autry National Museum. Tom famously led tours through the Park, including his solstice walks to watch the sun go down over the City that he loved. He could be found hiking through the Park most mornings and was always quick to stop and talk to other park lovers. He especially enjoyed meeting visitors from other countries, and was always glad to tell them about the history and the sites of Los Angeles.
Tom famously carried garden tools, rakes, brooms and trash bags in the trunk of his car, and as he drove through the City if he was to see an overflowing trash can or litter in the street he would jump from his car, put on his orange safety vest, and clean the street, gutter and sidewalk.
Tom's greatest love though was his family. The joy of his life was his wife Brigid, daughter Mary-Cate and his son Charles. Though we will all miss him greatly, he will live on in the memory of all who knew him.