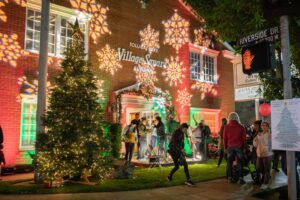 'Tis the season to come together and celebrate the magic of the winter holidays!
We are excited to invite you to participate in our upcoming Annual Holiday Open House event, a joyful occasion that promises to light up our community and promote your business in the most festive way possible.
Event Details:
Date:   Friday, December 1st
Time:  5:00 pm – 9:00 pm
There will be a centennial parade after the Christmas Tree lighting event.

Why You Should Join Us:
Boost Your Visibility: Put your business in the spotlight during this high-traffic event, attracting new customers and reinforcing your presence in the community.
Create Lasting Memories: The holidays are all about creating unforgettable moments. Participating in our open house will leave a lasting impression on your customers.
Collaborate & Connect: Network with fellow local business owners, fostering a sense of unity and cooperation that will benefit everyone in the long run.
Drive Sales: Offer exclusive holiday promotions and discounts to entice customers to shop locally, benefiting your bottom line.
Spread Holiday Cheer: Embrace the holiday spirit and create an unforgettable experience for your customers.
This year our theme is Celebrating 100 Years in Toluca Lake.  We plan to light up a large Christmas tree and commemorate the 100th Anniversary of the founding of our unique village. There will be a Celebration Stage for our Christmas Tree lighting count down on Talofa Avenue and Riverside Drive. If you would like to make a donation towards our celebration stage, please email us at info@tolucalakechamber.com
In addition to Toluca Lake's Honorary Mayor Fritz Coleman, we anticipate visits from our city and state officials including Kathryn Barger, our LA County Supervisor and our City of Los Angeles, Council President, Paul Krekorian.

How to Join the Open House
Registration for being included in our promotional materials has ended.
If you have questions, or you would like to let the Chamber know what you have planned for the Toluca Lake Holiday Open House on December 1st email us at info@tolucalakechamber.com.
Who can Join?
Any business/store (merchant or restaurant) in Toluca Lake, or bordering areas such as Burbank and North Hollywood. See the map below.
Your storefront/restaurant must be open from 5:00 pm to 9:00 pm on Friday December 1, 2023 during the "Open House."
Your business should offer something special to the patrons who visit the Holiday Open House. Examples would be a free promotional item with your brand name on it, a free or discounted offer for your services, a special holiday treat, hot chocolate, tea, etc. or a gift of any value representing Toluca Lake and your store.
You are encouraged to decorate your store with holiday colors, lights, ornaments and greenery to demonstrate your "holiday spirit." The more festive you are the more publicity you may get.
We will provide your business with a poster/banner advertising the Toluca Lake Holiday Open House – 100 Year Celebration for you to display and advertise the event.
You must register your information on our Chamber website below in order to be included in any promotions about the open house event. The registration deadline is November 22.
If you are not currently a Chamber member, please consider joining our growing and thriving community to continue receiving benefits throughout the year.
If you are not currently a Chamber member, you must apply for membership to receive benefits throughout the year.
If you are not a member, the cost is $25.00 to be listed on our event day display. You must register below to qualify and subject to approval. If you wish to be on the overhang street banner, you must fill out a sponsorship form. Contact President@TolucaLakeChamber.com for a copy.
Please consider sponsoring this event. See sponsorship opportunities here.
Sincerely, Craig Strong & Sheila Melody
. .