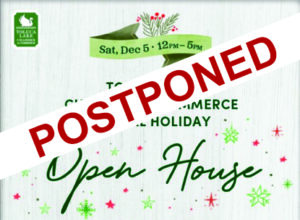 Due to the new COVID-19 restrictions, we will have to postpone the 2020 Toluca Lake Holiday Open House to a future date. We are saddened by this situation, but we must take every appropriate step in an abundance of caution.
Shannon Hartman, the Chamber Vice President and the owner of Priscilla's Gourmet Coffee, and a team of volunteers have spent several months planning an all-new, socially distanced, and fully masked Holiday Open House, however, the new restrictions make it impossible even with our best efforts.
As a result, we will postpone the event for now and we hope to hold it (or something similar) in the coming months.
We are very grateful to the entire Toluca Lake community for all of the support that has been given to the local small businesses, and we ask for your continued patronage during these challenging times. Please know that many of the restaurant's will still be offering take out and delivery, and we hope that you will support them. Also, most of the retail stores will still be open with all of the proper social distancing rules in place, and we encourage you to visit them if you're able.
Thank you all very much for your patience and understanding as we get through these challenges together. The Chamber is here to offer assistance and provide key information to our members and the entire community.
We are wishing all of you and your families a safe, healthy and happy Thanksgiving and holiday season.
Adam
Adam James
President
The Toluca Lake Chamber of Commerce