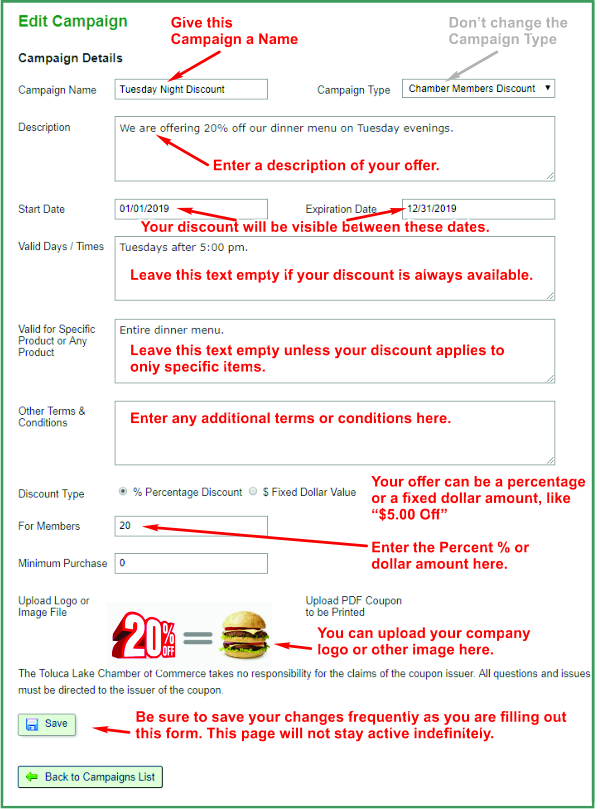 Members of the Toluca Lake Chamber of Commerce can offer discounts that will be listed on the Chamber website as part of the Chamber's Business Directory. These discounts are offered to other members of the Chamber and members of the Toluca Lake Homeowners Association.  You can recognize these members by the membership status displayed on the Toluca Lake App on the member's smartphone.
To add your discount offer to the Chamber Business Directory, follow these steps:
1,  Log On to your Chamber account.
2.  From the menu on the left, select Campaigns. Each discount you offer is called a Campaign.
3.  Click the "Create New" button and fill in the form for your discount.
4.  Be sure you click the Save button frequently to save the changes to your discount offer. If you are uncertain about information needed to complete the form, change the start date to a day in the future and save the form. You can edit it at any time and change the start when you are ready.
You can also email the information shown here and we will add your Discount Offer to the website for you. Email these details to WebServices@TolucaLakeChamber.com
If you have any questions, please email them to WebServices@TolucaLakeChamber.com
---
Here are some suggested offers:
Free Consultation for Members
$5.00 Off for First-Time Customers
10% Monday Discount for all Chamber and HOA Members