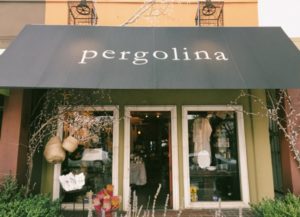 Dearest Chamber
I want to thank you from the bottom of my heart for this honor.
(see Small Business Award)
I am so proud to be a member of a community that cares so deeply and works with joy. To be a second generation business in Toluca Lake is a dream come true.
Pergolina is a blank canvas to broaden the creative juices of our clients, not only with a diverse mixture of products, but with classes, language, art, floral design and makers. Art exhibits, charitable functions, awareness of other cultures. Children came and drew on the sidewalk and donated money to the children of Afghanistan. A Check for $5000 was sent to Easterseals for the awareness of Autism, the gross sales of an art show. We have had two client appreciation brunches, Pergolina believes is saying thank you.
Pergolina has never been just a cute gift shop, but a haven for the creative and bold, magical people of Toluca Lake. She greets her Toluca Lake family with the door wide open.
Sincerely,
Paulanna