Donate Through The Chamber
The Chamber will facilitates your donation and see that it goes to the project of your choice.  You can mail your contribution to:
Toluca Lake Chamber of Commerce
P O Box 2312
Toluca Lake, California 91610
Remember to indicate one or more of the following projects.
Community Beautification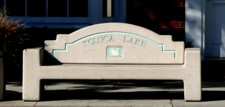 We continue to maintain the landscaped medians and Toluca Lake gateways to enhance the experience of Toluca Lake. Specifically, the newly added flagpole & lighting distinguishes the entrance at the west gateway of Toluca Lake.
We are committed to completing a successful Community Design Overlay for Riverside Drive, which will ensure the character of our community long into the future. We continue to improve Toluca Lake through placement of branded street furniture & signage, all intended to enhance & make distinctive the Toluca Lake experience.
Each season we present the Holiday Open House, which has now been declared an official "Valley of Stars" Event and brings thousands of visitors & potential clients to our community each year.
This fund benefits the LAFD Widow's and
Orphan's Fund as well as Fire Station 86
in Toluca Lake.
Historic site and museum known as the
Birthplace of Califonia.
CUSG    Communities United for Smart Growth.
Other… You can donate directly to the Toluca Lake Chamber of Commerce's general fund or you can indicate specifically how you would like your contribute used.

The Toluca Lake Chamber of Commerce is a 501(c)(3) not-for-profit organization. Your contributions are tax deductible . Tax ID Number 95-3825750.