What do you remember about Toluca Lake in days gone by?  Share your memories.  At the bottom of this page you can add your comments or stories.
Tick Tock Restaurant
10123 Riverside Drive – now The Counter

"My Mother and Father owned the Tick Tock Restaurant and it was their lifelong pleasure to serve the communities of Toluca Lake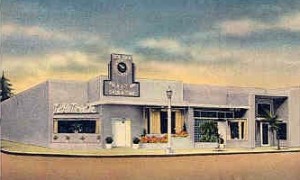 and Hollywood. As children we LOVED growing up in a town where everyone knew you and people took care of each other. Toluca Lake was truly the diamond of the valley."
Helene Johnson Bradley
---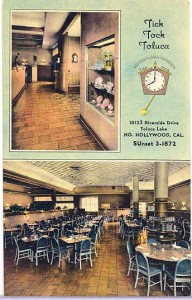 "My grandmother and I would go to the Tick Tock from Glendale when I was a child. I have wonderful memories of the shrimp cocktail and all of the clocks. I am am 67 yers old now and have never found such a wonderful place."
Sheri Chalstrom
"Where to begin? I grew up on Forman and Kling (my parents bought the house from the Tick Tock owners!) My grandparents had a house right on the lake… that was awesome! We would sail, swim and swing on the swing at the end of the lake near Lakeside.
Tick Tock restaurant was the best! Loved the peppermint ice cream at Chapman's. I also remember the Green Store, that someone else already mentioned. Pop'n Cork used to deliver to our house! I also remember my brother and I riding our bikes to the Hot Dog Show…. many memories!"
Christina Carroll